Carpet Dyeing, Color Restoration and Stain Removal

 
We Can Correct Bleach Damage and Carpet Stains at a Fraction of the Cost of Replacing
Carpet & Area Rug Color Restoration Services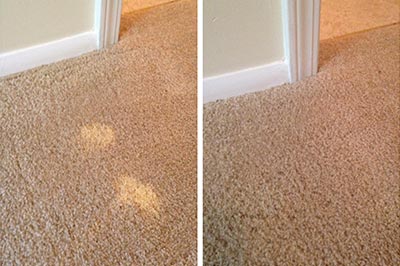 Ugly "bleached-out" spots on carpet can be caused by numerous household items. While bleach is the most common culprit, toilet bowl cleaners, acne medicine, pesticides, and even carpet stain removers can call cause carpet discoloration. Repairing the carpet by spot dyeing is the best method of fixing these issues and saving the cost of replacing or patching your carpet!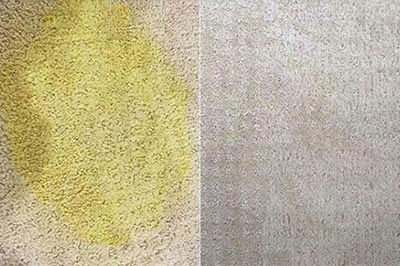 Orange, yellow, white, green, purple, or blue spots on carpet caused by bleach, makeup, juices, wine, medication, household cleaners, etc can all be repaired and the carpet restored to its original beauty. We have the training and expertise to solve these issues for a fraction of the cost of replacement.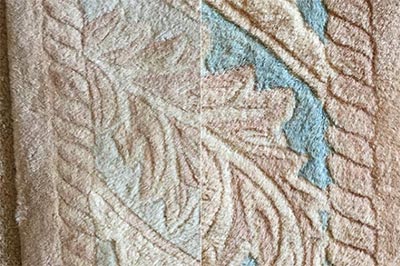 All area rugs can be susceptible to fading and discoloration over time, or from harsh chemicals, aggressive cleaners or pet urine/vomit, or even just the sun. We can restore the color and original beauty back to your area rug by restoring faded, damaged, or missing colors. We use an exclusive ColorCues app for near-perfect and permanent color restoration.
Benefits of Carpet Dyeing Over other Forms of Carpet Repair
Carpet Dyeing is a convenient, environmentally friendly, and quality practice at a price that is extremely cost-effective in comparison to the cost of replacement.
One major reason that carpet and rug dyeing is so extraordinary is that its main focus is to fix discoloration issues.
Carpet patching, on the other hand, requires excess carpet from a closet or inconspicuous area. Such carpet is usually less worn down and has less dirt, resulting in a section of carpet that looks entirely different than its surrounding area. Carpet dyeing does not have this problem.
Our carpet dye mixtures are designed to produce a color that blends into the surrounding area.
No Excess Carpet Requirements

Perfect Color MatchThat Will Last The Lifetime Of The Carpet

Perfect Color Restoration In A Matter Of Hours

Professioinal-Quality Expert Repairs
No Need To Cry Over Spilled Bleach.
There are not many options if you spill bleach onto your carpet or rug. Bleach removes colors from the rug which causes a permanent stain unless this bleached out spots are dyed back to its original color. Most people replace the carpet, which is very expensive. Professional carpet dyeing can be a much better option.
THE COST OF BLEACH REPAIR?
Bleach repairs are valued on the size and exactness required of the job. It can be generally assumed that repairing bleach on carpet or an area rug is going to be up to 90% less expensive than replacing it. We're happy to provide a free inspection and estimate.
HOW LONG DOES IT TAKE?
This will depend on the size of the job. Large spots are harder to fix than small ones. A job can range between 30 minutes and 4 hours.
OTHER HOUSEHOLD CHEMICALS THAT CAN CAUSE PERMANENT STAINS
The list is very long but includes; ammonia, chlorine bleach, peroxides, pool chemicals, shoe dye, pesticides, cosmetics, paints, pet urine, etc.
See How It's Done…
The video below shows how a permanent bleach stain on carpet can be repaired. The expert in this video is using a syringe technique to apply a custom mixture of dyes to the carpet. When the hot dye makes contact with the carpet fibers it instantly bonds to the fibers. The result is a permanently restored carpet perfectly matching the original color.
SAVE MONEY BY LETTING US DYE YOUR CARPET INSTEAD OF REPLACING IT. SATISFACTION GUARANTEED!