Commercial Carpet Cleaning & Floor Care Services
We Bring THE CLEAN!
Does your commercial flooring need some help? Do they need regular maintenance? Are they just plain dirty?
We can help!
We are not your typical franchise or subcontractor for a national cleaning company. What we are is a locally owned Company that provides dependable, quality commercial floor cleaning services for businesses of all sizes and categories.
Got Concrete Flooring?
Check Out Our Concrete Deep Cleaning & Polishing Services
Our Customers Benefit From:
Our absolute commitment to you! Customer satisfaction is our top priority and we are not happy until you are!

Consistent results! We take great pride in our staff of hardworking floor care professionals!

Green friendly products and equipment

Hands-on supervision of all work

Routine customer follow-up

On-call response to meet your sudden and unexpected needs

We are bonded and insured
Commercial Carpet Cleaning Made Simple!
We specialize in commercial carpet care. Our low moisture cleaning process will leave your carpet looking great and is ideal for the busy workplace. Our customers love the way we clean, and you will too!
Benefits of Low Moisture Cleaning Include:
Fast Dry Times! Carpets are usually dry in 60 minutes or less. This means little to no interruption for customers or employees.

Safe Workplace! No cumbersome hoses or hot water fed solution lines running through your office creating a potential safety hazard.

Fantastic Results! Our low moisture carpet cleaning does an amazing job on traffic lanes, spots and spills. We'll keep your carpets staying cleaner longer!

After Hours Service! Using self-contained, stand-alone equipment means we can work in virtually any setting. This includes "locked door" environments where security is a concern.
It's Good Business!
The simple fact is that your business will benefit from a healthy working environment. Clean surroundings help boost employee morale and productivity. It will also make a lasting impression with your customers and clients.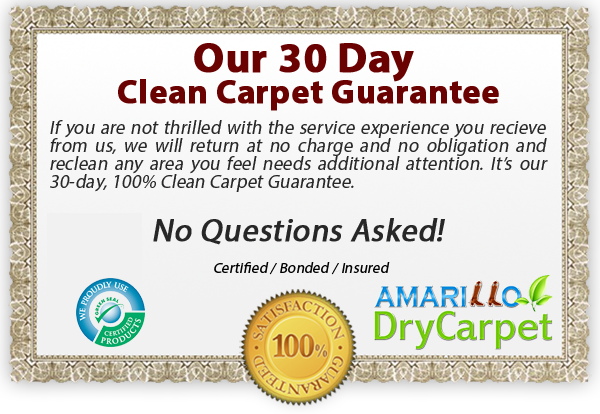 FOR QUESTIONS OR TO SCHEDULE
CALL (806) 553-2077